The 2021 Subaru Love Promise Customer and Community Commitment Award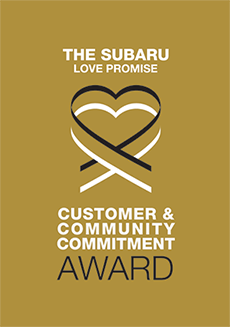 We've been nationally recognized for our dedication to our customers, our community, and the Subaru Love Promise.
We're honored to receive the 2021 Subaru Love Promise Customer and Community Commitment Award. This award nationally recognizes elite Subaru retailers who provide an exceptional customer experience at every interaction with Subaru. These retailers have also demonstrated an outstanding commitment to supporting passions and causes in their local communities in important areas such as the environment, community, health, education, and pets.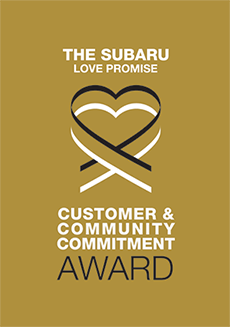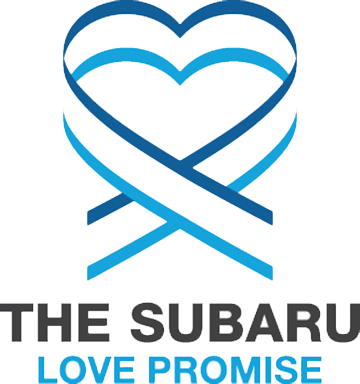 What is the Subaru Love Promise?
Subaru and our retailers believe in making the world a better place and the Subaru Love Promise is our vision of respecting all people. This is our commitment to show love and respect to our customers and to work to make a positive impact in the world.
How is Findlay Subaru dedicated locally to the Love Promise?
Our Love Promise can be seen in various partnerships with local charities and non-profits. We're grateful for the opportunity, not only to be a part of our community, but to serve it as well.
Southwest Wildlife Foundation, St. George City Animal Shelter
Washington County School Dist
Washington County School Dist, Wash. Co. Children's Justice Center
Wash. Co. Search & Rescue
Intermountain Healthcare - DRMC
Love Promise Stories from Findlay Subaru
Subaru and Findlay Subaru believe in making a positive impact on the communities in which we live and work. We uphold that belief through our Love Promise Community Commitment. Every month, we select inspiring stories from customers and partners from around our area who strive to support our collective commitment and feature them here
Findlay Subaru "Shares the Love" - Karyn K
Findlay Subaru St. George is presenting the proceeds from their Subaru Share the Love promotion to the Southwest Wildlife (SWF) on Friday, April 23, 2021 at 11:00 am, and is inviting the community to attend. Findlay Subaru St. George is donating $12,231.91 to the SWF and its founder, Martin Tyner. The Share the Love program allowed customers the option to donate a portion of their purchase to a selection of charities, or a "hometown charity" which was designated for 2020 as the Southwest Wildlife Foundation. Findlay Subaru St. George's General Manager, Dave Gourley expressed his gratitude in being able to partner and support Mr. Tyner's wildlife rescue and wildlife educational outreach programs. Gourley stated, "We're so glad and proud to help Martin make a real difference in our community through rehabilitating over 150 wildlife each year."
---
Findlay Subaru Service Loves the Earth - Karyn K
Findlay Subaru St. George has expanded their Loves the Earth program to include recycling plastic waste and filters used by their service customers.
---
Findlay Subaru Raises over $125,000 - Karyn K
Representatives from the Findlay Subaru St. George presented the Washington County Sheriff's Search and Rescue a check for $30,711, representing the proceeds from their 10th annual charity golf tournament held in June. "This year the results were outstanding," said Dave Gourley, general manager of Findlay Subaru. "They were double what we've done in any other year." Washington Chief Deputy Nate Brooksby and Washington County Undersheriff James Standley accepted the check on behalf of the organization. "We want to thank Dave and Findlay Auto Group," Brooksby said. "This is the 11th year, and as of last year, we totaled everything and you've donated about $125,000."Brooksby said the donations help the organization, which is largely staffed by volunteers who buy much of their own equipment. Brooksby then presented Gourley with a framed letter. "It basically says that in the last 10 years, every search and rescue they (volunteers) have been on, you guys have played a part in that because of your donations and dedication. So we wanted to express our gratitude," Brooksby said. The Washington County Sheriff Department Search and Rescue team is largely composed of volunteers who spend their time aiding and assisting the Washington County Sheriff Department in locating lost individuals. Washington County Sheriff's Sgt. Darrell Cashin, the Sheriff's Office liaison to the county search and rescue team, gave their annual report in January to the Washington County Commission and said the team had seen an all-time high number of calls in 2020. The total calls were 174 – an almost 40% increase from 2019 – and nearly 7,100 volunteer hours. Cashin previous told St. George News that hikers not being prepared for a venture into the wilderness is a common reason the county's search and rescue team gets called out, adding that people don't dress warmly enough in the cooler months or forget to take an adequate amount of water in the heat of the summer, among other failures in preparation.
---
One Customer's Journey - Charles N
Our customers Charles and Colleen Neault had a harrowing experience in September of 2020. Mr. Neault was kidnapped, assaulted, and horrifically wounded by two suspects. His attached excerpts from a letter sent to us outline his horrific experience. Findlay Subaru reached out to Mr. Neault and was able to trade him out of his car and into one of the same year, equipment, and miles, with no out of pocket expense on his part. Findlay Subaru--with the assistance of Subaru of America--absorbed a loss of over $3000.00. We are so happy to contribute to a happy ending for the Neaults and wish them the best of luck in the future.
---
Findlay Subaru Donates 80 Blankets to Switchpoint - Karyn K
Findlay Subaru had the great opportunity to donate 80 blankets to the local shelter, Switchpoint. Switchpoint individuals and families that are homeless, in need of support, victims of domestic abuse, and much more. Findlay Subaru is proud to not only partner with this worthwhile organization, but support those in the community who are in need. We are happy to have been able to contribute to Switchpoint as a part of Subaru Loves to Care/Help.
---
A gift that fosters learning - Jonathan E
Dear Findlay Subaru St. George, Wow! You are all heroes. Thank you so very much for your generous contributions to our classroom and for making our wishes a reality. Your support for our students is amazing and appreciated. We are very excited to receive our LEGO Spike Prime kits and get to work building the future. Your donations will help create more fun and engaging opportunities in our classroom. Best wishes to you and thank you again for your generosity. Your gift will benefit hundreds of students for many years. With gratitude, Mr. Edie
---
Thank you Findlay Subaru! - LaVerkin City A
The LaVerkin City Shelter is grateful to Findlay Subaru for partnering with us this year! Every dog in our shelter was adopted out through the month of October, leaving us with an empty shelter at the end of the month! Findlay Subaru posted our available dogs on their social media, spreading the word and helping every pet in our shelter find a home! We were very honored to be a part of Subaru Loves Pets. Odie, Kopper, Kaiser, Ziggy and Dakota give Findlay Subaru a paws up and happy faces from their new homes!
---
We're so grateful for Findlay Subaru! - Tomie J
Thank you Findlay Subaru for your very generous support of Intermountain Healthcare, Dixie Regional Medical Center and the Jubilee of Trees! The Jubilee of Trees is a holiday fundraising event for Intermountain Foundation at Dixie Regional. It is the largest showcase of designer trees between Las Vegas and Salt Lake City, and one of southwestern Utah's most beloved events. With over 35 years of volunteer and community involvement, the Jubilee has raised millions of dollars in support of healthcare advancements since its inception. It is a wonderful tradition of community generosity that has been invaluable to our hospital's progress. A major fundraising focus for the Jubilee of Trees has been the advancement of cancer services at our hospital. Because of the generosity from supporters and donors like you, a new state-of-the-art cancer center, comprehensive cancer treatment, cutting-edge technology, and ground-breaking precision cancer genomics is available for patients in our community and beyond. Our hospital is greatly appreciative of the incredible giving spirit of Findlay Subaru. You have helped in building our hospital's programs over the years, bringing innovation, transforming care, and creating inspiration and hope for a bright future for cancer patients. On behalf of our patients, caregivers and foundation, please accept our heartfelt gratitude for the part you play in the success of our Jubilee of Trees and Dixie Regional Medical Center.
---
Findlay Subaru Donates Art Kits to Cancer Center - Karyn K
Findlay Subaru of St. George donated 50 art kits to the Intermountain Cancer Center at Dixie Regional Medical Center. This donation was made as an extension of their Subaru Loves to Care program. Jilynne Hafen, Oncology Social worker at the Cancer Center states, "We use these kits all the time. It's a real comfort not only to those patients with children, but our patients that are children as well." David Gourley, General Manager at Findlay Subaru of St. George has been the driving force behind acquiring the kits and keeping them on hand for the Cancer Center. He states, "we want to be able to support [the Cancer Center] all year round, an know that these art kits are an important part of their care process."
---
Findlay Subaru St. George Loves Pets! - Karyn K
As a part of the Subaru Loves Pets program, Findlay Subaru of St. George was able to hold a pet supplies drive benefiting the St. George Animal Shelter. They were able to deliver those donations along with some New Pet Parent and Adoption kits and some special Chewbaru Outbark toys just in time for the Christmas holiday!
---